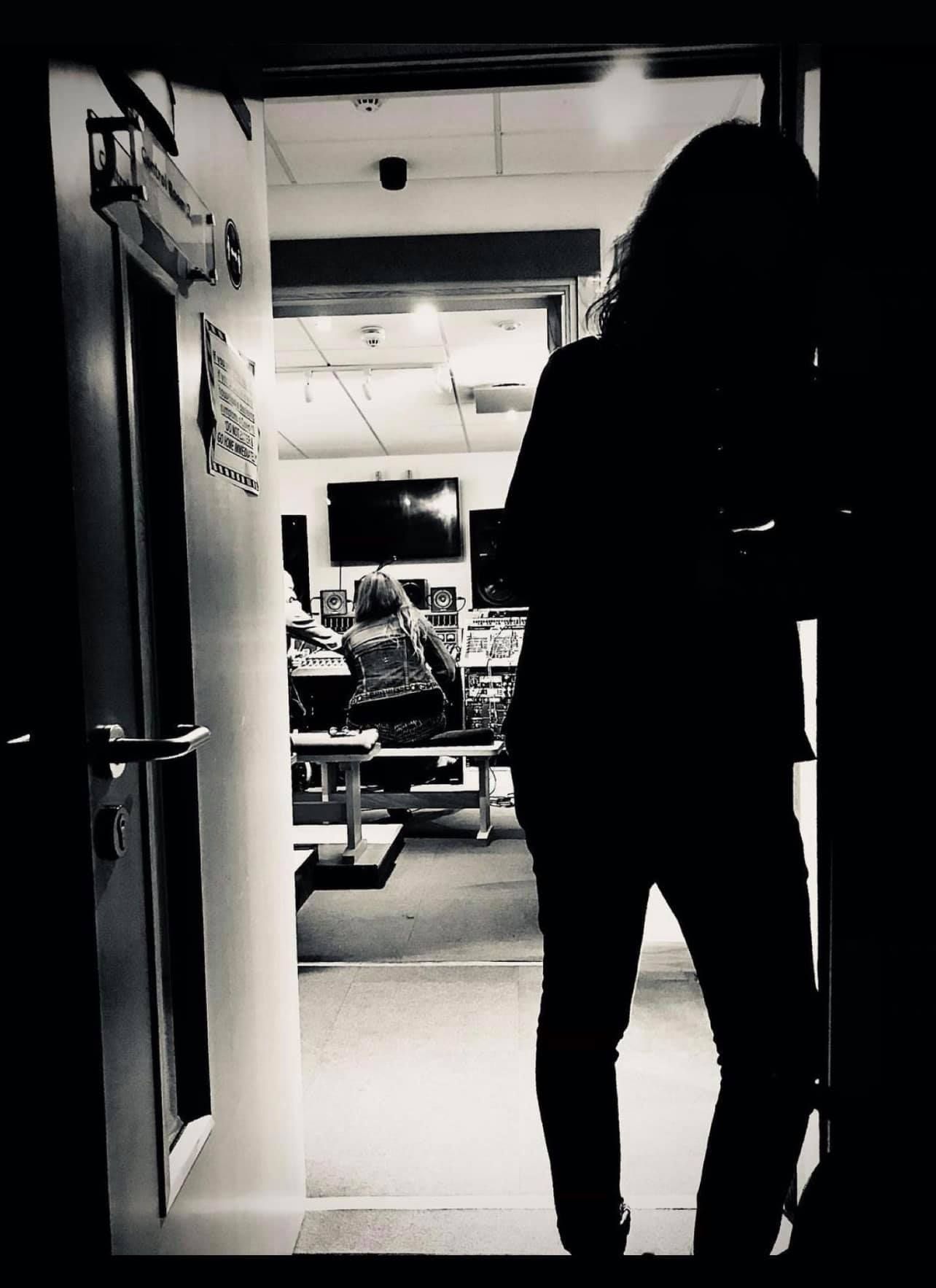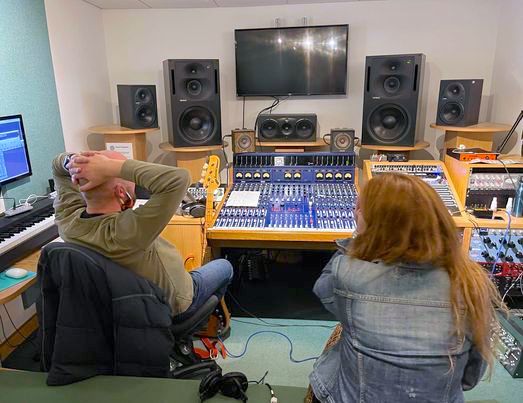 Making an album during a global pandemic can feel like clutching at fragments of gold while the river washes uncontrollably downstream. Frankly, I was already behind schedule - my own that is - sometimes life has other ideas and I've had to learn to trust that the timing is as it should be. Having had to postpone recording plans in 2019, as well as taking on the not-so-small task of a Masters degree, 2020 was Finally going to be the year… until it wasn't. The best laid plans and all that. 
One of the things that the last year has highlighted is how much we need others to keep motivated and inspired. There was this idea flying around that multiple lockdowns gave creatives a chance to be, well, even more creative. Whilst this may be true for some, for others it can be harder to feel inspired even when you have days of uninterrupted time, than when the world is buzzing and brimming with possibility. All that travelling and meeting and connecting, the random conversations at festivals and the adventures that are all part of a rich musical life shrunk down to a short daily walk and the odd Zoom call. Not only that, but when you are trying to process something so big, so unprecedented, figure out your basic survival needs, a host of changed plans and a million additional logistical problems… there's not much room left. The bandwidth is all taken. 
Gathering songs 
However, Luckily, (or unluckily) for me the past few years have given me a gold mine of grist for the proverbial mill. Unexpected upheavals, losses, heartbreak, health issues and dark nights of the soul - it's not like I didn't have anything to write about. In fact, it's been essential in order to navigate a way through and make some meaning out of it all. But then, isn't that what songwriters do? 
Some of the songs for this album began taking shape as far back as 2017 - some much longer ago than that as older songs that seemed to resonate with the experiences of our recent collective trauma drifted into my mind. One of those songs had the line "we haven't seen a soul round here for days" which could've been straight out of 2020 but was probably written about 10 years ago. So last summer, by letting the songs find their way to me as I sipped my morning tea or went for my daily walk, I was able to follow the thread of an album - the theme of which I only sensed but trusted would be revealed in time. I searched out old voice memos and lyric books, I often had 3 or 4 lying around from which I'd gather all the ideas altogether. New songs still wanted to be finished, and they hounded me until they were, requiring me to dig deep to find out what the song wanted to say from this vantage point in time. I recorded some demos and played them to Stuart, my partner and co-producer. Stuart has a knack of expressing his production ideas in such a way that I can hear it playing in my head too and I knew we were on the same page as we dreamt up the instrumentation and arrangements together.
A band came into being 
This was not going to be a gentle folk album, but it needed an electric band of the most tasteful and sensitive players. Like our drummer Rob Brian. I adore his playing and have known him for many years. In the '90's he played for 'The Rainkings' - a band I was in. We mainly performed Americana covers (or Alt. Country songs as we called them back then), so I knew Rob had the subtlety and skill. But that's not all, he really connects with the songs. Rob can drum on one of my songs and make it sound like he was there in my head playing at the moment I wrote it. Stuart Bruce's soulful and lyrical bass playing secured him the job so next we needed an electric guitarist.  Joe Coombs was recommended to me by two different friends and from the first phone call I knew he was perfect for the project. With sounds and textures and sensibilities that serve the songs so well, Joe can probably play anything. Dan Moore took a little longer to pin down, but again, I had a feeling he would be the right pair of hands on classic keys. Just sublime. They all have a wealth of experience and have worked with many a famous name, but that's not all that matters. A strong group rapport and synergy in the studio encouraged the live nature of the recordings and that is a rare and precious thing indeed. For a songwriter, to find musical minds that can bring a vision to life with such ease and care and skill is an absolute wonder. (Not to mention the vital fact that they are all such lovely humans too). Especially when I've never done something quite like this before, especially when I'm taking a risk with a new sound and direction, especially when the world has stopped, and everything is uncertain… But in this area, life felt charmed.
Face masks and headphones 
Besides the intricate puzzle of the availability of persons and facilities, the double booking, or the day we turned up to find half the mixing desk missing (it was being cleaned) it all went pretty smoothly. You just have to keep asking yourself if this is the right moment to put on the headphones, or the face mask, or take them off, or both! Sure, it would've been nice to see everyone's faces, and record the album in a couple of weeks instead of waiting 6 months between sessions for the studio to open up again, and for Stuart to have an assistant so he could just play rather than be musician, engineer and producer all at once. It would've been good to have someone come and film us professionally, or have a friend drop into the studio with a fresh pair of ears to cheer us on, or even, dammit, to be able to go for a pint together after the sessions. But we did it - with all the excitement and exuberance of musicians who have been let out of the house to do what we're made to do. 
Just as creativity isn't something that can just be turned on and off but needs to be cultivated, none of this is as easy as when you are already performing on a regular basis. It's time for the guitar parts and your fingers have got soft on the ends, or it's time for vocals and you wonder if your voice has changed and you still have the breath. Then there's confidence. Nobody has clapped you for your efforts for months, if not years. You haven't felt that buzz of shared experience with an audience in so long… and yet it's really that visceral appreciation and exchange of energy that keeps you going and makes it all worthwhile. We all need the good vibes. Another reason that I was so happy to have a band around me enthusing about the record and knowing everyone involved really 'gets it' and can't wait to get out there and play the songs live. 
Next steps 
If you follow me on Instagram you might have seen the rainbows (whole ones) that kept appearing when I came out of the studio. When it came time to record the lead vocals and the studio was not available we were able to work for a couple of days in one of the most beautiful home studios I've ever seen, in a place we'd never been before. I do believe that once you set off on a creative journey, life likes to give you tiny clues that you're on the right track. 
That said, making a record isn't easy at the best of times, and somewhere in the process I got overwhelmed - not so much by the ever-changing production schedule - but by the monumental number of tasks required to release an album these days at the same time as doing the creative work. I decided to focus on just finishing the record to the best of my ability. It's very close now - bar a few more overdubs, backing vocals and the all-important final mixing and mastering. We are doing some filming soon and have some gigs booked in September and there's lots of funny out-takes and little videos to share when the time comes. I'm very proud of what we've managed to achieve so far. The next step is to find the best way of getting the album out into the world and into the ears of those that want to hear it. 
One reason I did the MA in Songwriting was to take myself out of my comfort zone and allow myself to work on the kind of record I've wanted to make for a long time, and write songs I want hear. In truth there have been some days when I've needed to hear those songs for myself, just to keep going through it all. My pervading wish is that others will connect to them too and it will make life seem a little more light than dark, a little more hopeful and a lot less lonely. In this world, our society, and at the heart of our own lives, I look forward to seeing you somewhere on The Broken Road Back Home.