Press Reviews
"It may well be a broken road, but Crook walks it with a sure step and her head high to come home with one of the year's best albums." Folking.com
Digging deeper into personal experiences this time around but with universal resonances,  it opens with the kind of title track, 'Broken Road', which, setting the pattern of catchy, radio-friendly melodies and chorus hooks, has a certain folksier Fleetwood Mac feel as she sings about the need for both personal and collective spirit. 'Battle Scars' is a dreamy ballad about loving someone with all their baggage that again  speaks of the spirit to rise again... the organ-backed 'Where Words Don't Go' where she echoes a young Eddi Reader, embraces a similar theme of understanding while the ethereal, atmospheric  cosmic folk 'Strange Red Sun' with Porter on cello, pulsing drums and its shades of the early Mitchell and Amos  Read review
"Absolutely lovely. Beautiful song" BBC Radio Bristol (WHERE WORDS DON'T GO)
"This record is some of Crooks finest work to date. If you appreciate great songwriting then it's well worth a listen!"
Jennifer Crook's vocals shine on the melancholy record The Broken Road Back Home. The album has been ten years in the making and her beautifully crafted lyrics are perfectly framed by multi-platinum award-winning engineer Stuart Bruce who is on production duties for this one. Previously released song 'Battle Scars' is a stand out track as Crooks injects emotion into her vocal performance. Meanwhile, 'Build A Shelter' is a very well written track, the lyrics really stand out. Whilst, the final track 'Lay Your Weary Head Down To Rest' is a fitting end to a wonderful album. Read review
"A beautiful song" Noel Casey Dublin City FM (BATTLE SCARS) 
"A new artist to me - she's gonna be a big one" Richard Leader's American Pie Meridian FM
"Classic pop songwriting... Great single"
Fatea
If you needed proof that classic pop song writing is alive and well in 2022 then Jennifer Crook's Aftermath is where to look. A clear voice, vaguely reminiscent of Kirsty MacColl, as is her songwriting, guitar lead music, with a Hank Marvin style solo, from the seemingly ever present these days Joe Coombs, make this timeless pop music, a bit sixties, a bit eighties and all quality. "In the aftermath when you're crawling in the dust. And you're clinging to the wreckage and the loss" Great single.
"Fantastic new single"  Sound Cafe (AFTERMATH)
"Outstanding new single"  Music City (BROKEN ROAD)
"Crook and Jones voices work well together and the large backing chorus makes this sound like a Greenwich Village protest song brought up to date" Fatea (BRAND NEW DAY)
"The Broken Road Back Home' is a lovely record with a timeless quality that should appeal to anyone who appreciates good songs and a finely crafted album with excellent musicianship." Red Guitar Music
12"Vinyl Release 22 April 2023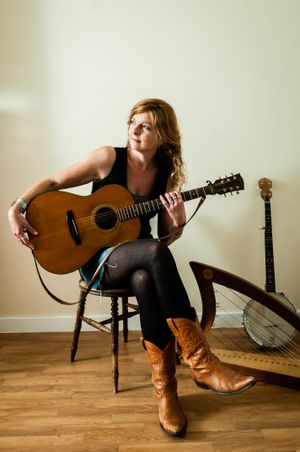 Precious Time (single) 2020  
"Absolutely Gorgeous!" BBC Wiltshire
Sea Glass (single) 2020
 "I absolutely love that"  Mark Radcliffe, BBC Radio 2, The Folk Show
"What a gift to music this track is" Frome FM
"I can't listen to this piece of music without finding tears in my eyes. It is so moving... The cast of this track is truly stellar. The combination of the instruments... is exquisite. The song is so deeply poignant now at this time of corona virus."  Fatea
"In a changing and contentious world it's reassuring to know that there are wonderfully talented artists like Jennifer Crook…One of the absolute highlights of a memorable evening was Jennifer's song "Seaglass", which she wrote for Miranda Sykes...it was simply stunning."  Fatea, Live Review, Bothy Folk Club  2019 
The Year, She Turns  2017
"Jennifer Crook's magnificent musical almanac...would be very difficult to say which of these tracks are my favourite. Simply adore them all" Fatea
Carnforth Station 2014
"I urge you to give this a listen. This is contemporary songwriting and performing at it's best. Whoever helped Crowd-fund this release - you should all be proud of yourselves"  Maverick*****   
"This is a superb record.... although her voice is nothing like Mitchell's, she has a core strength that brings Blue to mind. Still, Jennifer is very much herself and also a writer with her own unique set of gifts that melodically and lyrically, place her a cut above many of her contemporaries."  Folk Radio UK 
"Crook's beautiful voice is immediately heard at it's soaring, aching best...songs of rediscovery and of missed opportunities, they capture the expressive quality of Crook's vocals." R2 (Rock'n'Reel) ****  
"Jennifer Crook is on fine form. A quality record that showcases her talents and allows her voice to shine"  The Telegraph***  
"An album of great beauty incorporating trad Irish, bluegrass and alt country/Americana rootsy melodies married to thoughtful lyrics...superb!"  From Albion and Beyond (USA)  
"I have no idea why this girl isn't absolutely huge 'cos she writes so many great songs"  Dublin FM  
"Heartfelt and personal, the girls done herself proud."  Acoustic 
"From the first song she has me engaged....it isn't just a piece of music it is a fantastic piece of storytelling."  Fatea  
"Carnforth Station has a strong transatlantic flavour to its theme of travel and searching... it makes a neat combination, since old-time US music has always sung of rootlessness, restlessness and the quest for home.  High praise." Morning Star
"Heart-wrenchingly gorgeous music…just go buy the album"  Roots and Fusion  
"Warm, organic, real. Great songs and terrific musicianship"  Trevor Dann BBC Radio Producer  
Merry-Go-Round 2011
"I'm really, really loving the new album Merry-Go-Round - it's beautiful"  Bob Harris BBC Radio 2 
"...and they don't come much better than Darrell Scott on the austere duet and instant classic 'Cowboys'. Jennifer has employed her stellar studio cast well and her expertise for songwriting and arrangement define this accomplished album." Spiral Earth  
"If you don't get a warm glow when you listen to songs like She Wore Red, Come September, Cowboys or Catching Butterflies, then I can only assume that you are cold and dead inside. An amazing, amazing record, the kind of thing that gives modern folk a good name."  Zeitgeist  
"' From the vivid storytelling in 'She Wore Red' to the beautiful imagery in 'Come September', Crook is a writer who paints a picture with an elegant turn of phrase. " Fish Records
"Crook is a class act… delivering instantly hummable, captivating vignettes in her warm, generous voice."R2 (Rock 'n' Reel) 
 "It's the more reflective numbers like She Wore Red's hymn to the free spirit 60s that stand out and mark her transition from go to session harpist to star turn. " NetRhythms 
"The songs of Jennifer Crook deserve to be known by a wider audience. A brilliant new album " Maverick****
 A Few Small Things 2008 
"Spellbinding"  Acoustic  
 "An enchanting album...one of those records that repeatedly delights and captivates"  fRoots
"Exquisite...a remarkable CD with a great collection of self-penned songs"  Maverick****
"Tender acoustic finesse…Ten originals with roots in traditional folk but which head for the mainstream thanks to their stimulating melodies and supreme settings….will touch a nerve with many a soul and certifies Jennifer's status as a talent with a white light future"  Musician  
"Though there are legions of North Americans mining this neo-traditional territory loosely termed Americana, there surprisingly aren't many English singer-songwriters following a parallel course. Most seem to be either hung up on imitating American songcraft or sticking to a purist version of English folk. A Few Small Things is unique, a breath of fresh air, and hopefully the way forward."  Listomania